​Emergency Supply Checklist for Your Car, Truck, or RV
02-12-2016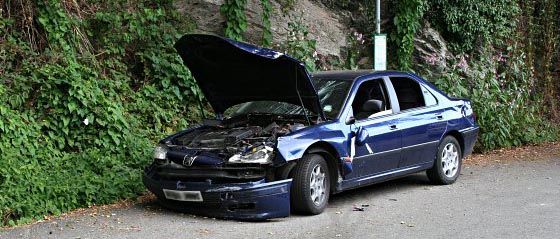 Are you prepared for an emergency situation away from home? What would you do right now if an emergency happened while you were at work and your kids were at school? Would you be prepared for a large earthquake, a breakdown in the middle of a winter storm, or even something as simple as a flat tire in dark and remote area? If roads were closed or impassable, an evacuation ordered, or a tornado warning issued in your area which prevented you from getting home, would you be prepared to survive in your car for a few days? If you're like most, probably not.
In today's world we spend more and more time away from our homes. In fact, many people spend more time away from home than they do at home. Commuting to work, trips to soccer practice, grocery shopping, or a leisurely weekend getaway in the motor home, are just a few of the everyday types of activities that take us away from our homes. Its because of this, that it is critical to store important emergency supplies in your car, truck, or RV.
There are two types of emergencies that you need to prepare for in your car and away from home: Natural disasters and roadside emergencies.
The following emergency supply checklist shows you what types of emergency supplies you need to store in your car, truck, and/or RV. It is separated into emergency preparedness supplies that you will need in survival situations, and roadside emergency supplies that you will need if you car unexpectedly breaks down. Note that depending on the size of your family you may need to add additional food, water, emergency blankets, and dust masks to your emergency kit.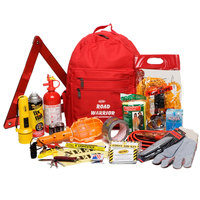 This Road Master Emergency Kit combines many of the essential tools necessary to work safely through an roadside emergency.
Natural Disaster Preparedness Supply Checklist for Your Cars
Essential Emergency Preparedness Supplies
Emergency Food Bar 2400 Calorie (x2)
Emergency Drinking Water Pouches (x12)
Survival Blanket
Waterproof Poncho
Flashlight
Radio (with NOAA Band)
Whistle
N95 Particulate Dust Mask
Other Important Emergency Preparedness Supplies
Distress Banner
Hand Warmers
Light Stick
LED Emergency Flare/Flasher
Matches
Mobile Phone Charger
First Aid Kit
Roadside Emergency Supply Checklist for Your Cars
Essential Roadside Emergency Supplies
Jumper Cables
Tow Rope
Fix a Flat
Heavy Duty Work Gloves
Duct Tape
Collapsible Snow Shovel (in cold winter climates)
Ice Scrapper (in cold winter climates)
Other Important Roadside Emergency Supplies...
Lithium Polymer Jump Starter Battery Unit
Two-Way Radio
Fire Extinguisher
Window Breaker / Seatbelt Cutter Tool
Emergency Reflective Triangle
EmergencyKits.com carries a variety of Emergency Kits for your Car, Truck, and RV and they are all available right now at competitive pricing .
One last important note. Make sure you and your family members develop an Emergency Communications Plan. Make sure you know how you and your family members will communicate and where you will meet should disaster strike. Essential Packs includes Emergency Communications Planning Cards in most of their car emergency kits. Emergency Communications Planning Cards are also available at EmergencyKits.com.